Fresno, CA Community Dance Info
Second Saturday Contra Dance February 11
Caller: Evo Bluestein, Band: Barry Shultz, Karana Drayton

Third Saturday English Country Dance February 18
Caller: Evo Bluestein, Band: Suzanne Botha, Sherron Brown and Dave Robinson

Both dances are held at California Arts Academy
4750 N Blackstone Ave, Fresno, CA 93726
beginners welcome!
6:30-9:00 pm, suggested donation $6
Please contact to be on the email list. Sometimes dances are preempted so be informed by sending your email.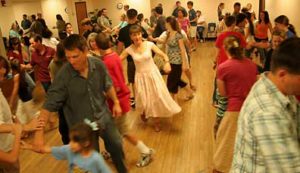 Here are a few resources, links to answer popular questions and perhaps find a dance near you.