Fresno Community Dance 
Contra Dance Sat. March 10, 2018
California Arts Academy
Caller: Evo Bluestein
Music: Barry Shultz,, Karana Drayton
6:30-9 pm, $6, beginners welcome
Please contact to be on the email list. Sometimes dances are preempted so be informed by sending your email.
First Saturday English Country Dance at Auberry Library  with Chris and Tina Galfo (free)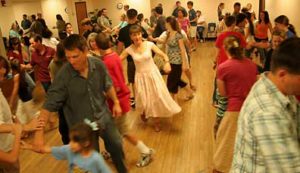 Community contra dance at California Arts Academy
Here are a few resources, links to answer popular questions and perhaps find a dance near you.