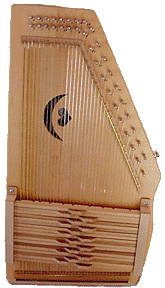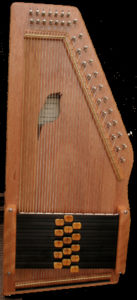 Evoharp (full sized autoharp    Sparrowharp (3/4 sized autoharp)
The Evoharp (22″ tall x 11.75″ wide) combines elements of the old Oscar Schmidt A-models (made before 1970) with contemporary standards of craftsmanship. Its light weight makes it a pleasure to hold. The sound is a full and rich open tone. The Sparrowharp was designed for children or adults with shorter arms (20.5 inches tall x 9.5 inches wide).
The Evoharp is a handmade autoharp or chord harp, also known as a chorded zither. The Sparrowharp has similar characteristics but it is narrower in width for smaller bodies and shorter arms.
Designed as a 15-bar autoharp, The Evoharp may also be ordered in a 21-bar configuration or as a diatonic autoharp. People with bursitis and arthritis take pleasure in this harp because of its weight, size and action.
Case features handlers, shoulder strap and backpack option with larger music book storage. $50 case (if sold separately)
* Custom Built in the USA
* Easy to hold & play
* Smaller size like the original A-model harps
* Solid spruce top
* Laminated frame
* Walnut back
* Maple chord bars
* Fast action
* Weighs 6 lbs
* 1-year Warranty
* Strap buttons included
Harps usually ship within a week or two but could take up to two months from the time of your order. Please inquire as to what is currently in stock.
Evoharp is designed by Evo Bluestein and Jim Woods
Evoharp dimensions – 22″tall by 11.5″ wide
15 bar Evoharp $905
18 bar Evoharp $965
21 bar Evoharp $1,025
"The Legacy" (add $300 to any model above)
Sparrowharp Price List 
15-bar with Custom padded case $749.95
18-bar with Custom padded case $792.95
21-bar with Custom padded case $833.95
Korg ca-30 electronic tuner, $30
T-handle tuning wrench, $20
"The Legacy" Evoharp is our top of the line model. Upgraded body, includes walnut sides and bridges and beautiful herringbone purfling.
Add $300 to the price of any Evoharp model.
"The Legacy" Evoharp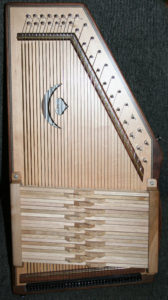 "The Evoharp was delivered in excellent shape and in excellent tune! I find it easy to play and the sound is wonderful. It does not bother the arthritis in my hands so it is a blessing. Thank you!"Florence Haas, Mountain View, California
Read an article about this harp
Sample the instruction dvd and then go here to purchase.
Evoharp on Youtube
Left-handed 'harps, electronic pick-ups, flat buttons and Schreiber fine tuners are available for all models! Fine tuners are available for all Evoharps.
"After my first pick/strum I was hooked! The crafstmanship, the wood combinations and the sounds from this instrument are incredible."Janet & Ray Molinari, New Jersey
Feels like an A model, plays like a custom harp
Orders or Questions: (559) 297-8966 or email
Left-handed 'harps, electronic pick-ups, flat buttons and
Schreiber fine tuners are available for all models!
$905, 15-bar chromatic Evoharp, includes custom padded case & tuning wrench!
Sparrowharp 3/4 sized quality autoharp for kids or adults with shorter arms.
Choose from these models:
15-bar Chromatic(pictured above)
[G, A, C, D w/relative minors]
18-bar Chromatic [F, G, A, C, D w/relative minors]
21-bar Chromatic, 
15-bar Diatonic GD or FC, 
Hymnal Harp 21 bar harp in flat keys, used in many hymnals (7 major chords, 4 minor chords  Ab, Eb, Bb, F, C, D, Fm, Cm, Dm) 
Lap Style Evoharp Same as 15 bar chromatic but designed to be played flat on lap or on a table.
Having the I, IV & V7 chords and all the relative minors for the keys of G, C, D and A on one harp, in the space of the old 12-bar chord assembly, makes the 15-bar Evoharp an ideal autoharp for oldtime music, folk and bluegrass. 
This harp combines elements of the old Oscar Schmidt A-models (made before 1970) with contemporary standards of craftsmanship. Its light weight makes it a pleasure to hold, and I think you'll like its rich open tone. Thank you for considering an Evoharp. ~Evo Bluestein
Phone Orders or Questions (559) 297-8966
Call for shipping options
"The beautiful harp is here, and it exceeds my wildest expectations. What a joy, what superior quality! I am also very pleased with the elegant case. It arrived at my office this morning, and I am having a hard time keeping my mind on my work and my hands off the harp." Karen Larsen, Portland, Oregon 
Feels like an A model, plays like a custom harp
Orders or Questions: (559) 297-8966 or email