Fiddling, singing, clogging–at the same time! A banjo concert, autoharp par excellence and a repertoire of American folk songs that you will find fresh and authentic.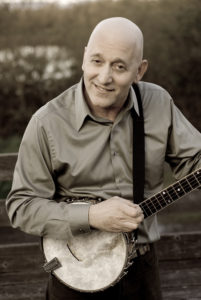 Multi-instrumentalist and singer Evo Bluestein brings to his music a rich legacy of American folk tradition, brilliant interpretation and original composition. Evo's childhood home often hosted an array of America's great bearers of traditional musical culture: Pete, Mike and Peggy Seeger, Bessie Jones, Jean Ritchie and Elizabeth Cotten, to name just a few.  

Considered one of this country's most accomplished Appalachian-style autoharpists, Bluestein is equally known as a performer and teacher of oldtime fiddle, button accordion, guitar and banjo. His repertoire includes songs derived from Appalachian, Cajun, zydeco, blues and other styles of music.
While performing a spirited selection of American folk songs, he delights audiences with percussive stepdancing (clogging) as well. Raised in a musical family, for many years he performed in the Bluestein Family stringband. In addition to acoustic folk concerts, Bluestein plays accordion and fiddle in his electric band, Bad Boys Zydeco and banjo in his original music ensemble Liquid Amber.
"Evo presents a great musical "experience." It is more than a performance, more than educational – it is a terrific balance of the two. Evo combines singing, instrument playing and dancing in a way that makes me think he's using trick photography- even when he is ten feet away." Scott Jacobs, Concord, CA

"Evo Bluestein was fabulous, what a wealth of talent, knowledge and soul. 
Kudos for booking him at the 2010 Sonoma Bluegrass Festival. Bring him back." 
Micah and Linda Schwaberow, Sonoma, CA

 
"You are truly amazing!! We were amazed to see you simultaneously playing a complicated autoharp song, singing the words without a glitch AND clogging a rhythm all at the same time." Nancy Rothwell, Seattle, WA
"True-to-tradition presenting and amazing technical virtuosity. All integrated with humor and message. What a wonderful evening!" Tony Saletan, Seattle. WA
"You put on a wonderful show. Our guests expressed to me that they were "wow-ed." Carol Keig House Concerts, Cloverdale, CA
"Thank you for blessing our house with your joyful and gorgeous music!" Amy Sparrow House Concerts, San Francisco, CA
"Thanks for the great workshops. In particular the clogging workshop was very well received. We had a number of good comments." Dan Dewayne, Strawberry Festival, Strawberry Music Inc., Sonora, CA
"Everyone is still glowing around here from a full weekend of traditional music. Of course, your name has become a household word and we all hope you'll venture this way again soon. Peace" Bob Mueller, Millpond Festival, Bishop, CA
"Mr. Bluestein, this is just to let you know that I truly enjoyed your presentation last night. We were very fortunate to have you speak and perform for our class. You brought a wonderful dimension to my study of folklore. I will admit I was a bit skeptical about the idea of listening to a "folklorist" –little did I know what a treat was in store for me. Thanks for the experience!" Lorayne F. McKelvy-Morris, California, State University, Fresno
"On behalf of the planning committee for Willamette Valley Autoharp Gathering, we want to give you a great big THANKS for coming and gracing our festival with your charisma, great instruction, wonderful performance and good spirit. Your performance on Saturday night was great. Folks enjoyed the variety and found the concert very entertaining. I especially appreciated the multitude of instruments you play in your concerts. It was really nice to have someone play all so well in this setting." Les Gustafson-Zook, Goshen, IN
"Thank you for your wonderful entertainment at our 13th Annual Dinner. I received many comments about your enjoyable performance. The choice of music was great. Thanks again for a job well done." Leslie Feathers, Project Coordinator, Tree Fresno
"Thanks for participating again in the Academy's Traditional Arts Program. Your programs are always a success with museum visitors. I think they like the variety of instruments and musical styles in your repertoire." June Anderson, California Academy of Sciences
Your music touches the heart and sustains the spirit. Something so much needed in this world of ours. In peace, Elaine G. Schwartz, TAWL newsletter, Tucson, AZ