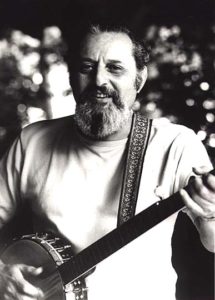 Gene Bluestein (1928-2002)
Gene Bluestein (Evo's father) was awarded a BA degree from Brooklyn College and MA and PhD degrees (in American Studies) from the University of Minnesota. His first job was teaching English at Michigan State University. He came to Fresno State University, now CSUF, in 1963. While there, he was awarded many local and national honors, including three teaching Fulbright fellowships (once to Finland and twice to Japan). He also taught in France in 1975, and in China in 1989. At CSUF, he and a colleague were instrumental in establishing a Black Studies program.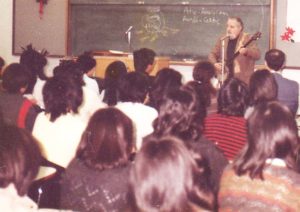 Gene Bluestein teaching American Studies in Japan.
He also created a program sponsored by the National Endowment for the Arts, which brought  nationally-known folk artists to the university, among them: Kenny Hall, Bessie Jones, Richard Hogopian, Jean Ritchie, Lydia Mendoza, and Dewey Balfa. The artists taught courses in their specialties and were available to local schools, at no charge. Bluestein has authored numerous scholarly articles and books. He retired from CSUF in 1992 and served as Professor of English Emeritus until his death in August 2002.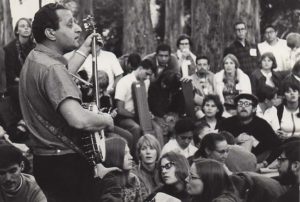 Gene Bluestein at Berkeley Folk Festival in 1966.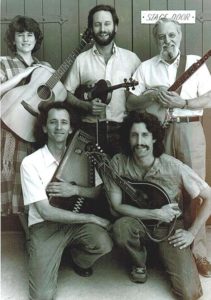 Gene performed and recorded with his four children between 1974 and 1986.

Books by Gene Bluestein 
The Voice of the Folk (University of Massachusetts Press)
Anglish-Yinglish (University of Nebraska Press)
Poplore (University of Georgia Press)
The Life and Death of a Polish Shtetl (University of Nebraska Press)